'ÄúNamatjira'ÄĚ – a Big hArt project, was co-produced with Company B and performed at the Belvoir Theatre in Sydney in 2010. Written by Scott Rankin who also co-directed with Wayne Blair, the production re-tells the story of Albert Namatjira – Australia'Äôs first Indigenous citizen and arguably it'Äôs most famous Aboriginal artist.
Evert was invited to join the cast as 'ÄėThe Portrait Artist'Äô, (co-sharing the role with Robert Hannaford). Summing up the experience as 'ÄúIndeed a unique, challenging and most rewarding journey. It was interesting what emerged on the canvas and the end result was three unique portraits each with an energy and mood all their own – inspired by the story being played out before me and the atmosphere of the theatre which enveloped me.'ÄĚ
With minimal props, a sensational script and the incredibly moving cross cultural sounds of Genevieve Lacey's musical score РTrevor Jamieson's lead performance was only made more outstanding by the fact that he played several roles within the show, including of course Namatjira, Rex Batterbee and even himself. He was supported by the multi talented Derek Lynch, also in multiple roles.
Evert'Äôs role of The Portrait Artist represented not only a specific event in Namatjira'Äôs life – when he sat as the subject for William Dargy'Äôs portrait, latter winning the 1956 Australian Archibald Prize, but the presence of the portrait on the easel, brushes and paints along with the Namatjira family adding to the background chalk walls, sets a tone of 'Äėart'Äô that is being created, with which the audience immerses themselves in.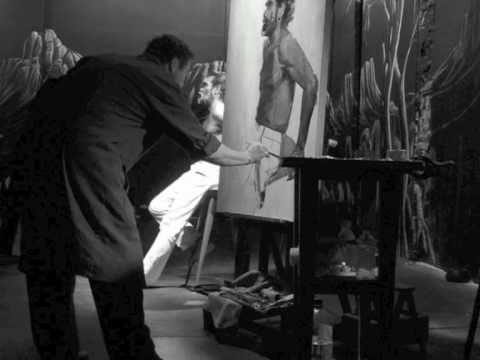 Click on pdf's to open
The Portraits
Painted live on stage, each of the three portraits, was painted over the course of one week, that being: 8 shows per week including 2 matinee's. The artworks were all consist in size, 150 x 90 cm oil on canvas. Art supplies were generously sponsored by Winsor & Newton.
'Wood'  - The Background of the canvas resembles a wood panel texture, a reflection of production designer's Genevieve Dugards simply awesome central 'ply-wood' rockscape
Into the Blue' - from when Rex introduces Albert to the wonderful 'Azure' blue of the watercolour pigment. The colour much of which resonates throughout the two and a half hour play.
'Chalk' -¬†Elton Wirri'Äôs background design is creatively added to each night by the Namatjira descendants and speaks volumes of the wonderful Aranda Country that Albert knew so well and portrayed in his watercolour landscapes.
Forging some endearing friendships and a deeper appreciation of the Namatjira / Indigenious legacy, Evert looks forward to the National Tour of Namatjira in 2011 and into 2012. There may well be an accumulation of artworks which will result in an exhibition to be announced.
For Further Info regarding the project, performace dates and media please contact namatjira.bighart.org or become 'ÄėFriends of the Namatjira project'Äô.
Creator: Scott Rankin
Writer/Co-director: Scott Rankin
Co-director: Wayne Blair
Lead Actor: Trevor Jamieson
Actor: Derek Lynch
Supporting Cast: Elton Wirri, Kevin Namatjira
Portrait Artists: Evert Ploeg, Robert Hannaford
Composer: Genevieve Lacey
Violin: Nicole Forsyth
Lighting Design: Nigel Levings
Costume Design: Tess Schofield
Set Design: Genevieve Dugard
Sound Design: Jim Atkins, Nick Shipway
Creative Producer: Sophia Marinos
Community Producers: Sia Cox and Pru Gell
Technical Director: Nicholas Higgins
Stage Manager/ASM: Jessica Smithett,
Luke McGettgan